Wutai Mountain Marriott Hotel Opens Door in Northern China
  Wutai Mountain Marriott Hotel is the 90th property of Marriott International as well as the 25th under the flagship brand in China.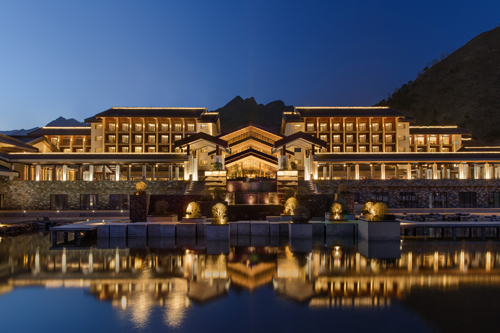 Mount Wutai, Shanxi Province, China, June 2, 2016 – Marriott Hotels, the iconic flagship brand of Marriott International, added a new gem into its illustrious portfolio of properties in China with the opening of the 246-room Wutai Mountain Marriott Hotel. Under a long-term management agreement with its owner Shanxi Wutai Mountain Wanhao Hotel Co., LTD, this hotel is located in the highly acclaimed Mount Wutai, arguably most famous among the four sacred Buddhist Mountains in China as well as a World Heritage site of UNESCO.
  Mount Wutai is the highest mountain in northern China, known for its breath taking natural beauty and characterized by precipitous sides with five scenic peaks. Numerous monasteries and temples have been built in this cultural destination over the past two millenniums. It also boasts picturesque sceneries, being inscribed as the first group of national scenic spots by the Chinese government.
  Wutai Mountain Marriott Hotel is located in the southern gateway of Mount Wutai and close to its core attractions including the renowned Encore Mount Wutai Theater. The five-floor resort style hotel designed by RTKL, a US-based architect design firm, was recognized as the winner of the 2015 International Hotel and Property Award. The design concept creates a harmonious ambience that blend in modern luxury and beauty, with the traditional Buddhist temples in the Mount Wutai area.
  "Wutai Mountain Marriott Hotel is the 90th property of Marriott International as well as the 25th under the flagship brand in China. This reflects the momentum of our company and the Marriott Hotels brand's increased popularity within the China market. Marriott Hotels enables guests to travel brilliantly while exploring new destinations. Wutai Mountain Marriott Hotel is the brand's newest showcase on how to deliver a great guest experience," said Henry Lee, Chief Operations Officer of Marriott International, Greater China.
  Wutai Mountain Marriott Hotel has convenient access to nearby cities, just 2 hours to Taiyuan and Datong as well as 3.5 hours to Beijing and Tianjin by driving. The 246 luxurious guestrooms of the hotel feature breathtaking views of Mount Wutai. Each guestroom is equipped with state-of-the-art facilities and amenities such as a 46-inch LED TV, mini bar, Wi-Fi connectivity, quality linen and bedding as well as room service.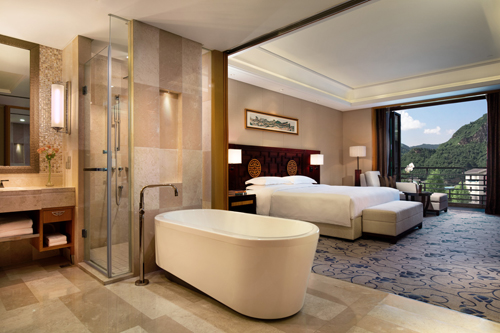 The two scenic lakes is another highlight of the hotel. The lakes complement well the surrounding mountainous landscapes, creating memorable backdrops for hosting a wide range of outdoor events such as parties, corporate celebrations, cocktail receptions and new product launches, just to name a few.
  Wutai Mountain Marriott Hotel offers more than 2,000 square meters of meeting space, including a 1,049 square meter pillar-less grand ballroom which can be divided into four rooms. It also has 10 function rooms ranging from 54 to 182 square meters that can accommodate activities of different scales.
  Guests can enjoy a variety of local and international culinary delights at the three restaurants and a lounge located in the hotel: Wutai Kitchen is an all-day dining restaurant featuring an a la carte menu as well as buffet; Residences, an upscale Chinese restaurant consisting of 12 private dining rooms, offers a variety of Shanxi cuisine as well as specialties and delicacies in Wutai Mountain, providing guests with a traditional yet sophisticated dining experience; The Lounge is a bar that transitions from a coffee and pastry hub by day to serving alcoholic beverages and snacks by night.
  Hotel also offers a variety of facilities and amenities that allow guest to indulge and rejuvenate. These include an indoor swimming pool, gym center, spa centre, KTV rooms and recreation rooms.
  "We are proud to be the first hotel of Marriott International in Shanxi Province. As the first international hotel in Mount Wutai area, we are poised to refine the hotel standard of this world's famous destination. For Buddhist followers, leisure travelers or MICE customers, we surely will be their hotel of choice when visiting Mount Wutai area," said Jerry Tan, General Manager of Wutai Mountain Marriott Hotel.