Peninsula and LUXE City Guides Enhance Partnership Further
The Peninsula Hotels has partnered with Hong Kong-based LUXE City Guides since 2012.
The Peninsula Hotels and stylish travel guide publisher LUXE City Guides are further enhancing their three-year collaboration with the launch of exclusive hard-copy compendium PenCities Guides by LUXE for each of the ten Peninsula destination cities around the world.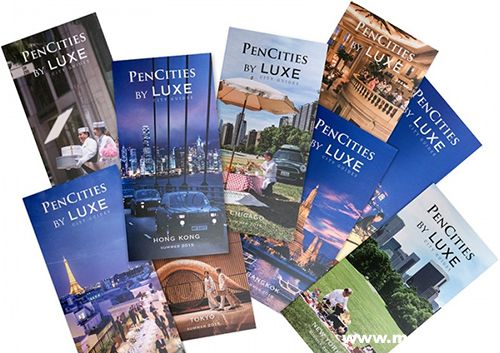 The bilingual PenCities Guides by LUXE in English and Simplified Chinese feature the latest, most fashionable experiences for discerning guests in each dyanmic international city.
The Peninsula Hotels has partnered with Hong Kong-based LUXE City Guides since 2012. Together, these two respected brands created the online luxury lifestyle journal, PenCities by LUXE, which is updated weekly with hip new openings and up-to-the-minute events at www.peninsula.com. The Peninsula Hotels is the only hotel company to co-brand with LUXE in developing proprietary online content and print guides.
Complementing the online journal, the new PenCities printed compendium guides are written exclusively for Peninsula hotel guests, and are offered as a complimentary amenity in each hotel guestroom.
The PenCities Guides by LUXE will feature LUXE's signature fun and irreverent writing style and handy compendium format. Each guide will be updated twice yearly to ensure it is always impeccably current.
PenCities Guides by LUXE present a curated collection of informed advice and tips for dining, entertainment, shopping, design, nightlife and spa and wellness, plus the latest openings, special cultural events, and seasonal celebrations.
The guides also feature two new sections: LUXE Classics highlights each city's top sights, timeless benchmarks and offbeat finds, and The Perfect Day outlines the ultimate full-day itinerary. A first for LUXE, the smart guides will also feature colour photography of selected sites and venues.
Each Peninsula hotel is positioned at the very heart of its destination – both literally and figuratively. The new PenCities Guides by LUXE present a new way for guests to discover expert insider knowledge and make the most of their time in the ten Peninsula destinations.

第一时间GET商业空间产业最新资讯
下载迈点APP

扫一扫下载APP